So, we received a litter of 8 puppies at wolf run this week. I sort of talked about this with Cindy earlier when we first got them in, since there was a HUGE debate between people who didn't work or volunteer there about what the "percentage" of wolf puppies must be. I tried to
politely
point out that percentages are nearly impossible to find, even with DNA, and that it's best to call them low/no wolfdogs (and husky mixes to people you don't trust or know), but they wouldn't have it. They HAD to know the percentage of wolf in them and acted like I was making excuses for wolf run not knowing.
The first pictures posted of the puppies made them look very dog like. And they do look very "doggy" but after seeing the parents- the father looks like a low/mid in person but the one photo I have of him doesn't really do him justice.. makes him look less "wolfy" (he was still in the van that the woman who dropped them off was living in), but the mother is almost all husky- so the babies do have a little bit of wolf in them.
Here's a picture of both parents. The mom is on the right, the dad is the pretty fluffy one. My puppy REALLY takes after the mom. He has her almost exact facial markings and coat length, but a more agouti (wolfy) coat color.
Anyway, since I've worked with wolfdogs for so long and eventually want to own a high content, I figured it might be a good idea to start myself out owning low content first. Especially since the alternative adopter for my puppy was a woman who kept asking "he's a FULL BLOODED wolf hybrid, right?!" and I just couldn't get it through her head that a wolfdog, especially low content, means they're a mutt. There's no such thing as a "full blooded hybrid." I didn't like that she called them hybrids either, but meh.
Since this one was the last one available, I pulled my boss aside and just told her I'd take him, which made him unavailable to the woman only wanting an animal that was part wolf to show off her "wolf."
I just call Echo a low/no to people I know aren't stupid. To the people who have been around me enough to hear me rambling about contents enough to know low/no means he's pretty much all dog. The one person I did tell the truth to that didn't know anything about them was the manager for my rental company. I wanted her okay to bring in another dog, and I wanted to make sure that if I brought him home it would be on the lease that his breed would be allowed (or not banned at the very least). I spent 45 minutes educating her on how a LC will behave if raised right vs any dog that is left alone for hours on end to fend for itself. In the end, I got the okay AND I got him added to the lease! (happy elephant dance for that!)
I picked my little man up this morning and it took me half the day to name him. He ended up giving himself a name when he threw his head back and howled this deep wolf howl when I stepped around the corner into the kitchen. I peeked and howled back, and he returned it, so I called him Echo.
He is VERY friendly and loves people, other dogs, cats, and attention. He's very praise oriented, and I'm still trying to gauge whether he's toy or food oriented for training. I'm thinking maybe squeaky toy oriented. At least that's what he seems most interested in, in a new, strange environment.
He follows Daisy's every step, but Daisy is used to being an only child so Daisy is being dominant and snappy so she doesn't like being followed. Fortunately, he's very submissive, so he just flops over on his back and she backs off. At this point,
technically
he's my foster puppy, but once he's neutered, I can officially adopt him. I've already told my boss that I plan to.
Here's Echo giving himself his name!
Sorry for writing a book! Here's the pictures you've been waiting for through all this writing!
Echo licking the air in his sleep
Here he is on the car ride home (it's a long ride home)
I didn't have anywhere to put him, so I just put him in my passenger seat. He was SO good. He just went right to sleep.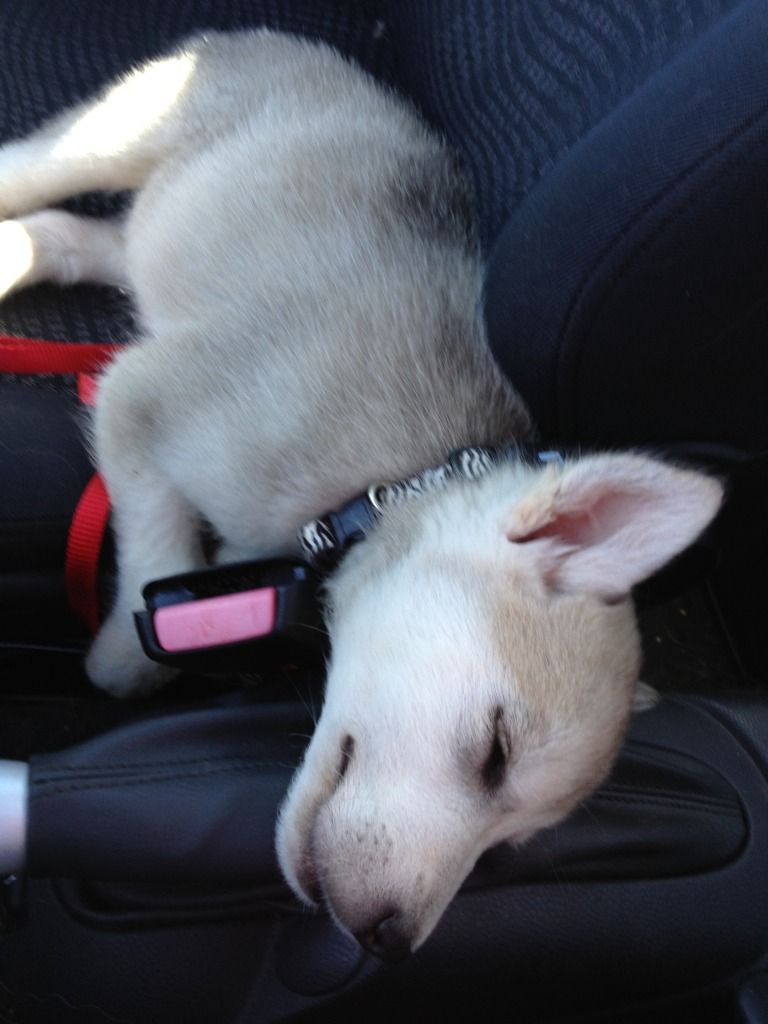 Echo is the awake one in this picture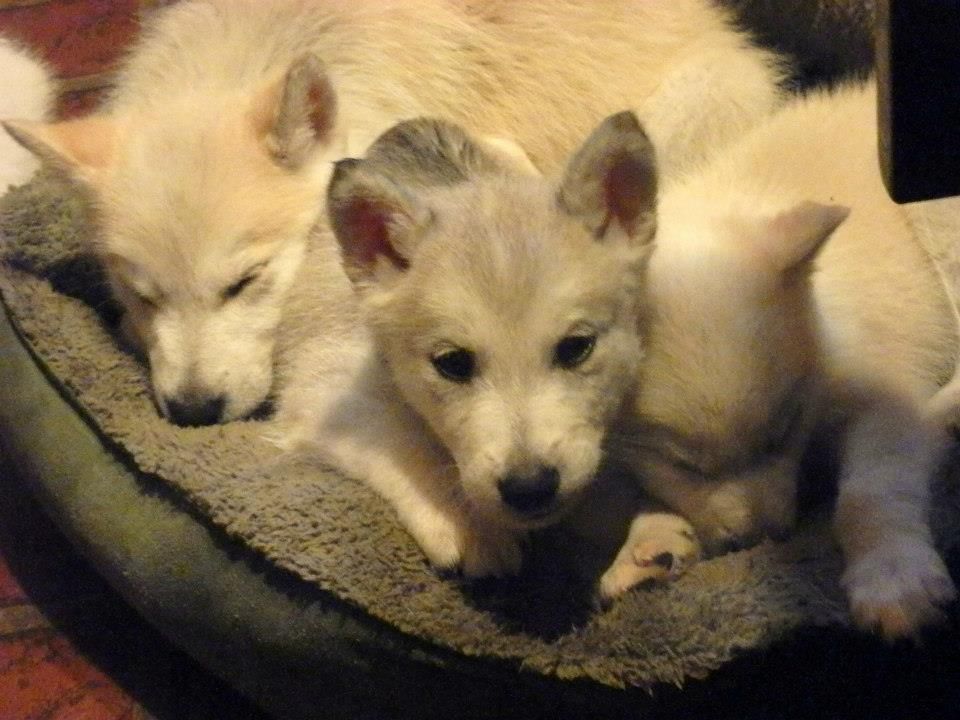 The bottom one in this one
This one, you can actually see his coat color the best. He was finally dry after his first bath after coming home. You can tell he has an agouti colored coat and how beautiful he is.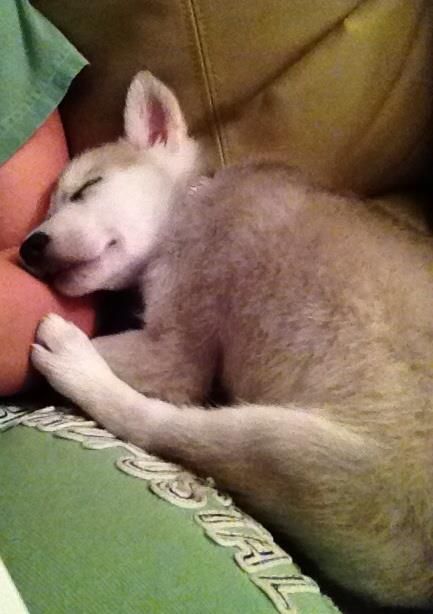 Wanting attention
Echo wants belly rubs!
And, here he is right after I put his collar on him in the grass at WR. He was angry at me and wanted it off. He kicked at his neck until I scooped him into my arms.