So... I have some critters I have never introduced (technically one is an invertebrate, but as 2/3 of the stuff I'm putting in this post is reptile stuff, I figured I'd just stick it all in one post in the reptiles area) and some other fun news, that I'm eager to share here so YAY fun stuffs.
First of all, I've never introduced Rifter. He's a male anery cornsnake (with a list of hets that I have written down somewhere, but for now I don't have a girly for him so it doesn't really matter he's just being a pet). I've had him for a little bit, but I had previously gotten a cornsnake that didn't live long (some of it may've been my care, there are some things that I studied better and fixed before I got a new snake, improper heating/lighting mainly I believe my problem, I was working on some faulty information, and it may've been that it was a petstore snake, even though the reptiles at the petstore I go to always seem to be in really good health, not always easy to tell) But the point being I was a little uncertain of my ability to keep a snake and was afraid to announce his existence (though that insecurity was probably dumb and perhaps y'all could've been helpful or something, but I hadn't even noticed any sure signs of ailment for my previous snake until I found it dead. Actually looking back I may've had reason to worry, but hindset is 20/20.
ANYWAYS. I have recongifigured care, have things all nice and happy and well set up, and after a good few months of anxiety I managed to talk myself into trying again. This one I got from a breeder at a reptile expo in Tulsa and talked some to the breeder, confirming what my previous problems probably were and that my fixes should be fine for him. And so I brought home Rifter. As as I've had him since early February and he's growing and eating and generally being happy and adorable as a snake can be, I'm no longer feeling so anxious and realize I really should introduce him.
And then, in another announcements, I have some crested gecko eggs from Mana and Mokuba that I'm attempting to incubate. I've done much reading online and am doing my best to stick to that, but this is my first time attempting such a thing so I still feel like I have no idea what I'm doing, but there has to be a first attempt to gain experience, so... I think they are about a month old now, and they'll probably hatch around four months, I think?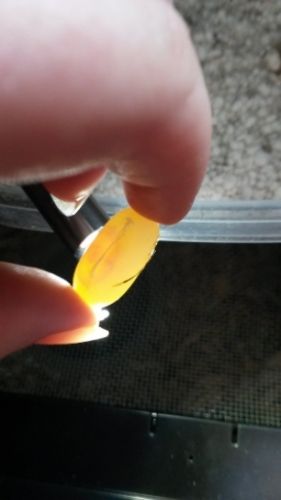 Pics are of my early attempts at candling them, the eggs were at most a week old I think? (I'm pretty sure they were in the cresteds' terrarium at least a few days before I found them) taken with a phone camera so not the best. The one with the crease there had that when I found it, but has been doing as good, if not better than it's twin (it's still the larger of the two?) So that's exciting~
And then there is my newest arrival: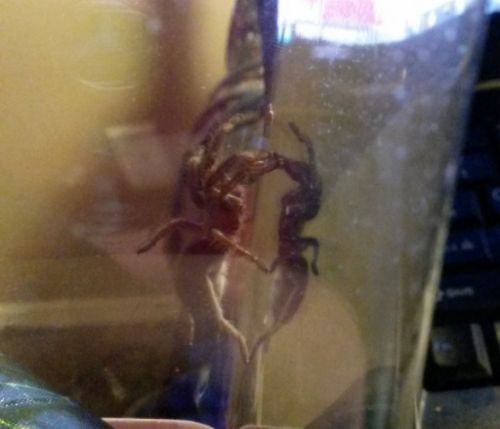 One of my pseudo-impulse purchases (I spend much time studying and collecting materials to house a pet I plan to get eventually but I didn't really necessarily plan to bring one home today till it happened) But this is a texas tan tarantuala, still just a little one~ I don't know sex (as far as I can tell you can't tell at this size?) and it doesn't have a name yet, but I got a simple enclosure nice and set up, though I may try to expand on it a little more as decor is currently a hide made out of a half buried plastic pot a long dead plant once came in, and the paired leaves pulled off a fake tree that he came with and it seems like it's set to get settled in. I've wanted a tarantula for a while , Texas Tan being near the top of my list, so when I saw this guy I had to bring him home. Yet another animal to the list of things I'm not gonna tell mom about if I want her to come visit any time soon.