Leave the bonding pouch in his cage for him to sleep in. It'll cut back on having to catch him to put him in it. All you'll have to do is zip it up when you want to take it out. It also helps to have the kind with a mesh window so he doesn't feel so "trapped." The type of bonding pouch I used had before my guys graduated to sleeping in my shirt, had little snaps on both sides at the top so it just snapped onto the cage.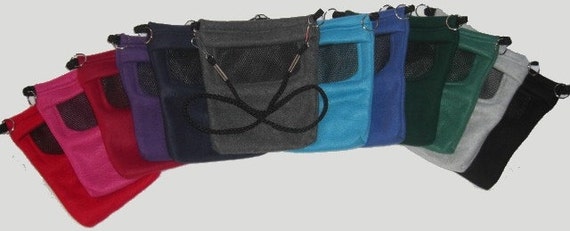 How long have you had him? Usually they take a few days to acclimate to a new environment. In that adjustment period, I usually spent a lot of time near the cage, just talking to myself, reading out loud, etc. but not handling them. This got my guys used to my scent, my voice, presence, and made them less skittish of movement around their cage.
Another thing that will help is TREATS. They love mealworms. Seriously. They LOVE them.
There are some other treats that you might find that your baby likes, but mealworms are a reliable one. Yogurt melts from the baby section of grocery stores are good treats too, you just have to find one he likes and make sure it isn't sugary (pick one that is fruit based, not vanilla).