I've been noticing some changes lately in Ori and am starting to suspect she may turn out like this fellow in Japan.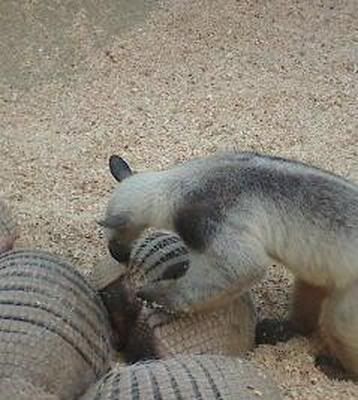 She is slowly getting lighter and she is turning black in her collar and down her spine. If her vest keeps fading she will end up like him. I don't think there is even a term for it. Blond but with a black V(sorta). She's starting to get very shiny, like Pua, as her blond hairs grow in too. I'm jumping the gun but the signs are there.
Black collar
Ori hanging out in the new hammock
by
TamanduaGirl
, on Flickr
Ear cleaning
by
TamanduaGirl
, on Flickr
Black down her back
Ori tries to join Pua
by
TamanduaGirl
, on Flickr
Her baby vest still hasn't faded away yet so we'll see. But would be cool. The collar and spine lines keep getting darker and more prominent though. It's like blond genes with an extra black mark gene replacing the brown vest with just a black partial.