Honestly, I was just bored and decided to look up breeds of dog that either have known ancestry of wild canids being bred into them or rumored ancestry. I've seperated them into one of 4 categories:
Breeds with Known Wolf Ancesty
or
Breeds with Known Ancestry from Other Wild Canids
and also
Breeds with Rumored Wolf Ancestry
or
Breeds with Rumored Wild Canid Ancestry (Excluding Wolves)
.
Breeds with Known Wolf Ancestry

Czechoslovakian Wolfdog (Or Czech Wolfdog for short)
The Czechoslovakian Wolfdog,[1](sk. Československý vlčiak, cz. Československý vlčák) is a relatively new dog breed that traces its original lineage to an experiment conducted in 1955 in Czechoslovakia. After initially breeding working line German Shepherd Dogs with Carpathian wolves (Canis lupus lupus), a plan was worked out to create a breed that would have the temperament, pack mentality, and trainability of the German Shepherd Dog and the strength, physical build, and stamina of the Carpathian wolf.

The breed was engineered as attack dogs for use in military Special Operations done by the Czechoslovak Special Forces commandos but were later also used in search and rescue, schutzhund, tracking, herding, agility, obedience, hunting, and drafting in Europe and the United States. It was officially recognized as a national breed in Czechoslovakia in 1982. Officially recognized as a breed by FCI in 1989.

The Czechoslovakian Wolfdog is more versatile than specialized. It is quick, lively, very active, and courageous. Distinct from the character of the Saarloos Wolfhound, shyness is a disqualifying fault in the Czechoslovakian Wolfdog.

The Czechoslovakian Wolfdog develops a very strong social relationship - not only with their owner, but with the whole family. It can easily learn to live with other domestic animals which belong to the family; however, difficulties can occur in encounters with strange animals. It is vital to subdue the Czechoslovakian Wolfdog's passion for hunting when they are puppies to avoid aggressive behavior towards smaller animals as an adult. The puppy should never be isolated in the kennel; it must be socialized and get used to different surroundings. Female Czechoslovakian Wolfdogs tend to be more easily controllable, but both genders often experience a stormy adolescence.

The Czechoslovakian Wolfdog is very playful, temperamental, and learns easily. However, it does not train spontaneously, the behavior of the Czechoslovakian Wolfdog is strictly purposeful - it is necessary to find motivation for training. The most frequent cause of failure is usually the fact that the dog is tired out with long useless repetitions of the same exercise, which results in the loss of motivation. These dogs have admirable senses and are very good at following trails. They are very independent and can cooperate in the pack with a special purposefulness. If required, they can easily shift their activity to the night hours. Sometimes problems can occur during their training when barking is required. Czechoslovakian Wolfdogs have a much wider range of means of expressing themselves and barking is unnatural for them; they try to communicate with their masters in other ways (mainly through body language, but also with quiet noises such as growls, grunts, and whining). Generally, teaching the Czechoslovakian Wolfdog stable and reliable performance takes a bit longer than teaching traditional specialized breeds. The Czechoslovakian Wolfdog has been successfully employed as a Search And Rescue (SAR) dog in Italy, although, admittedly, handling one requires much more work than other breeds.
Saarloos Wolfhond (Sarloos Wolfdog)
The Saarloos wolfdog, or Saarloos wolfhound (Dutch: Saarlooswolfhond) is an established breed of dog originating from wolfdog hybrid crosses.

In 1935, Dutch breeder Leendert Saarloos (1884–1969) started cross-breeding a German Shepherd male to a female European wolf (Canis lupus lupus) which he obtained from Diergaarde Blijdorp, the Rotterdam Zoo. Although he was passionate about the German Shepherd, he found most dogs to be too domesticated and wanted to breed in more natural properties in order to get better working dogs.[1] The result wasn't entirely what Saarloos had hoped for. This breed is cautious, reserved and lacks the ferocity to attack. Until Leendert Saarloos died in 1969, he was in full control over the breeding of his "European wolfdog". The Dutch Kennel Club recognized the breed in 1975. To honour its creator they changed the name to "Saarloos Wolfdog". In 1981 the breed was recognized by the Fédération Cynologique Internationale (FCI). In the past, some Saarloos wolfdogs were trained as guide dogs for the blind and as rescue dogs, but most dogs of this breed are currently kept as family dogs.

In 2015, a study found that the Saarloos wolfdog showed more genetic association with the gray wolf than any other breed, which is in agreement with the documented historical crossbreeding with gray wolves in this breed.[2]
Kunming Dog (Kunming Wolfdog)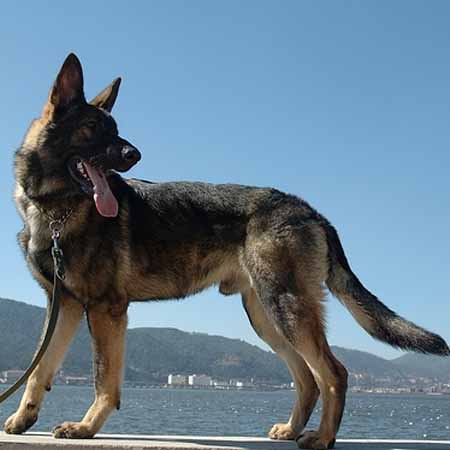 The Kunming wolfdog (Chinese: 昆明狼狗; pinyin: Kūnmíng lánggǒu), also commonly known as the Kunming dog (Chinese: 昆明犬; pinyin: Kūnmíng quǎn)[1] is an established breed of wolfdog originated in China.[2] They have been trained as military assistant dogs to perform a variety of tasks such as detecting mines. Some are also trained to be fire dogs and rescue dogs.[3] Today they are commonly kept as family companions by many pet owners in China.

Kunming wolfdogs are typically medium-sized dog who fall under the spitz type category. Their height is 25–27 inches (64–68 cm) and weight is 66–84 pounds (30–38 kg). The head and body of the Kunming wolfdogs are similar in appearance to the German Shepherd except they stand taller in the back. They have seasonal coats that grow into a double layered coat during the late fall to the early winter but will later on shed into a shorter coat during the late spring. The tail is long like their German Shepherd cousins. Kunming wolfdogs occasionally lift their tails curled high when excited but they often carry it lower behind their back like their wolf ancestors do. Coats are marked with a black saddle and muzzle, with other colors ranging from light straw to deep rust.[4]

Kunming wolfdogs share similar behavioural traits to their German Shepherd ancestors. They are extremely intelligent, normally self-assured and are marked by their curiosity and willingness to learn which allows them to excel in task training.[5] However, they are also highly active and require a lot of activities and ideally one long walk per day in order to keep them occupied. Like German Shepherds, Kunming wolfdogs are suitable to have around children when properly trained and supervised.

Most of the exact dog breeds used in the gene pool for the Kunming wolfdogs is ambiguous due to the lack of proper pedigrees and the fact that a majority of them were crossbreeds although the German Shepherd and some wolfdog crosses are known to play a huge part in the breed's origin. The Kunming wolfdog was created in the early 1950s to meet the need for military dogs in Yunnan.[6] A group of ten shepherd type dogs mixed with unknown breeds were brought to Kunming from a military K9 training program in Beijing in 1953. These ten dogs were insufficient for the immediate need, and so fifty suitable household dogs from Kunming were recruited as well as forty similar dogs from the city of Guiyang in Guizhou province (like the first ten, the exact breeds of these dogs are unknown other than that they were crossbreeds). After training, the best twenty of these ninety dogs were then selected. Ten wolfdogs bred in Beijing, twenty 'civil dogs' plus an additional ten 'shepherd dogs' imported from East Germany were added to the pool from which the Kunming Dog was developed. The Chinese Public Security Bureau officially recognized the Kunming Dog as a breed in 1988.[7] Kunming Dogs are used by the Chinese military and police, and have also found their way into use as civilian watchdogs and guard dogs.
American Tundra Shepherd
This breed is the result of a government experiment in the late 60's.

It was believed that crossing a wolf with a German shepherd would produce a superior stock, combining the strength, higher intelligence, greater stamina, better eyesight, hearing and nose of the wolf with the all-around temperament and ease of training of the shepherd.
In 1968, Frank Catania, who had 11 years of experience training dogs for the military and private, undertook a 5 year government program producing these wolfdogs for military use in Vietnam and elsewhere.
But as with many wolfdogs, the program failed.

They were good for tracking , but they were not motivated to attack a person, they had no desire to be protective towards men.
After these 5 years, the program stopped, but they wanted to create a new breed, in 1976, some of the 50% crosses were bred back to German shepherds.

After a while, these 25% wolfdogs became a new breed, the American tundra shepherd dog!
Now, there's a strict breeding program, the puppy's have to be examined by a certified breed warden, exterior and character are been followed , so this evaluation can help predict what work related field is suitable for each of these wolfdogs.

The American tundra shepherd dog is a massive, powerful animal, alert, nervously pacing back and forth, edgy in his awareness of every sound and motion.
Note: There are some people selling actaul wolfdog-crosses and falsely claiming they are American Tundra Shepherds.
The breed's official website is here:
http://www.atsfoundation.com/Default.html
I've also been able to find one breeder who seems to be breeding actual ATS, but the pictures really aren't good enough quality to tell for sure whether or not they are ATS or just very low-content wolfdogs or shepherd mixes since ATS isn't a recognized breed by any registry nor do they
to have a set standard as some like the dogs I posted above can look more wolfish while others just look like super chunky German Shepherd if you look the gallery on the breed's offical website.
Here's the possible breeder's page:
http://fensmtnkennels.com/
Lupo Italiano
The Lupo Italiano, also known as the Italian wolfdog, was a dog created by Mario Messi in 1966 by crossing a wolf from Northern Lazio raised as a puppy with a German Shepherd.[1] Its maternal genetics and gestation was from the wild wolf.[2]

Unlike most wolf-dog hybrids this canine displayed a propensity to be used as a working dog, and its breeding was taken over by the Italian Government. A breeding facility was created in Cumiana (Piedmont) and the number of dogs gradually increased to about 700 specimens. The breed was officially recognized by the Italian Government and laws were passed to provide financial resources for its breeding. Nowadays numerous Alpine rescue teams utilize these dogs to search for avalanche victims. Over time, it has proven superior to the German shepherd in locating persons buried under snow. It has also been used as a rescue dog to locate persons trapped under the rubble of collapsed buildings in the aftermath of an earthquake. It has performed exceptionally well in this role.

The Lupo Italiano's height ranges between 60 to 70 centimetres (24–28 in) for male, and 58 to 65 centimetres (23–26 in) for female. The head and its expression defines the sex of the animal. It has black lips and a strong jaw, with a full complement of 42 teeth: the bite is scissors-shaped. The body is sturdy, not too elongated. The abdomen is strong and tucked in. The spine is straight, and very well built. The rump is slightly lower set than the shoulders. The Lupo Italiano move quickly and gracefully, despite its size. Its trot should give the impression of "elegant force", reminiscent of the wild wolf. Its limbs are long, muscular, slightly angled. Its coat is of medium length and hardness, shorter and finer on the thighs, head and limbs. The Colour ranges from gray, with various markings, to cream, with a dark saddleback. The tail, without exaggeration, hangs low up to the hackles, and, like the Siberian husky, doesn't show any excessive curve.

For the last 15 years the Italian State Forestry Corps have worked mainly with this dog, in Italy and abroad. The Lupo Italiano, when working with the forest patrol, is always competent and reliable. Its attitude to tasks such as avalanche and earthquake resque [sic] is formidable and it is extremely well suited for searching people or other animals lost in the mountains and woods. The Lupo Italiano was chosen to serve in Turin 2006 Olympic Games.[2]

The Lupo Italiano is a loyal, fearless dog.

The Lupo Italiano is well adapted for work in a mountain environment, as an avalanche dog and as a rescue dog. It is resistant to adverse atmospheric conditions and bad weather. It is not affected by snow-glare. With its keen sense of smell, it is ideally suited to search for missing people or wounded animals. It therefore proves to be an ideal aid for park rangers, or game wardens. It can also be trained as a police dog and possesses great physical strength and incredible agility. It can also be trained as a flock guard to protect livestock.

The breed is protected by presidential decreet stipulating that this 'State' dog can not be commercialized nor bred outside the officially recognized agency, the Etli, Ente Tutela del Lupo Italiano (Agency for the protection of the Lupo Italiano).[3] For over 15 years the Italian State Forestry Corps has used this wolf-dog hybrid as their main working dog.

At the time of the breed's creation, nothing was known of the Czechoslovakian Wolfdog, even if it already existed, and the first Dutch attempt to create the wolf dog, the Saarloos Wolfdog, failed. In effect, the birth of Zorro, the first Lupo Italiano, was seen as a revolutionary victory.

Mario Messi, the breed's creator, dreamed of superior dogs managed by a specialized body working without profit. The goal was to provide animals for civil defense and the armed forces to save lives. An ambitious project, but especially expensive, which took the entire family fortune (extremely large), under the illusion that Italian politics would have supported and helped. He had some funding (already heavily criticized by his detractors), but an insufficient amount to sustain the costs of an enterprise too arduous. Someone sent him money thinking of helping the "real" Apennine wolf: then discovered that it was a different project and claimed that it was a scam.

The Italian wolfdogs have never been sold officially, because the moment of maximum interest for the breed would have been too complicated to try to entrust specimens and sell puppies. In other cases, animals that were passed off as Italian wolfdogs, were simply German Shepherd hybrids.

The original plan was for the dogs to be entrusted exclusively to people who used them for socially useful purposes. Messi counted on the help of the state in mind. In one example, Japan had even proclaimed "national treasures" his most important races: perhaps he was not quite clear on how things worked in the country.[4]

Here is the breed's official website although it is all in Italian:
http://www.lupoitaliano.it/
Tamaskan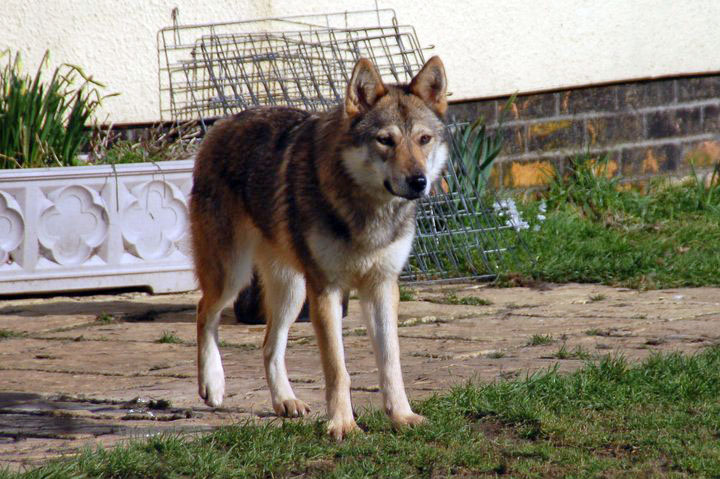 About the wolf content (topic copied from the official forum)
The reason for announcing the following information regarding wolf content is so that you (the general public) can make up your own minds about the rumors, speculation and gossip and draw your own conclusions as to the reality of the overall situation. Then we can have a healthy discussion about what it all means, the possible implications and how we use this information in a positive and constructive way to further progress the Tamaskan breed.

Although rumors of wolf content in the Tamaskan breed have been rife for years, until now there was no substantial evidence of such. One DNA parentage test was conducted several years ago (on dogs that were not microchipped and only identified by name) to 'prove' that Valko (a Finnish dog) was 'Whitefang' - the sire of Summer and Skye. However, there was no DNA evidence linking Valko to his own sire (alleged to be Boogie, a high content wolfdog). Without a direct clear-cut chain of confirmed parentage, with properly identified dogs (microchip etc) such 'evidence' was reduced to weak speculation at best.

Recently, several Tamaskan Dogs around the world were DNA tested for wolf content by the laboratory at UC Davis, which has developed a new DNA test for particular genetic markers that are found in American wolves. Of the Tamaskans that were DNA sampled, several tested positive for wolf content (the results thus determined that those Tamaskans are 'wolf hybrids') while others tested negative (thus, those Tamaskans are simply regular dogs without any wolf genes). Obviously this only affects particular bloodlines...

- Bobbi (Saarloos with Czech blood further back in the pedigree) X Summer (Whitefang x Paloose) = at least one offspring from this combination tested positive as a 'wolf hybrid'

- Skye (Whitefang x Paloose) X Nevada (Banjo x Tumanra) = at least one offspring from this combination tested positive as a 'wolf hybrid'

- Jackal (Oskari x Pauliine) X Jodie (Ivan x Dixy) = at least one offspring from this combination tested positive as a 'wolf hybrid'

The UC Davis DNA test costs $150 per dog - for financial reasons, we are simply not able to test all of the Foundation Dogs / bloodlines. IF I had such money to spare personally, I would gladly test ALL of my own dogs to see if any of them test positive (or not) for wolf content. However, I am of the opinion that only certain dogs from particular bloodlines will test positive for wolf genes. Whether these dogs actually are 'wolf hybrids' or simply have 'traces' of wolf genes in their DNA (yet are many generations removed and those few wolf genes are very well diluted) remains to be seen. It IS possible that the wolf genes come from Summer / Skye (out of Whitefang - IF the Valko rumors are true) however, it is also possible that the detected wolf content comes from Saarloos / Czech content several generations ago - the problem is that the laboratory is unable to distinguish whether the genes are inherited from the maternal or paternal side and, moreover, that their DNA test primarily focused on US wolves (which potentially rules out DNA markers for Czech / Saarloos as those breeds were developed from European wolves). IF Bobbi and Nevada and Jackal are all tested, and come back clear, then we could determine that the wolf content comes from Summer / Skye / Jodie. However, if all (or any) of those dogs test positive then it means that they are also 'carriers' of wolf genes.

That being said, the accuracy of this DNA test also needs to be further examined. For instance, several dog breeds (which look nothing like wolves) are known to share very close ancestry with wolves (Shar Pei, Lhasa Apso, etc) so until several individuals of these particular breeds are tested (and the results compared with those obtained from Tamaskan Dogs) we will be unable to confirm the accuracy of such a DNA test to truly determine 'wolf content'. It is, however, pertinent to expect that SOME Tamaskan bloodlines WILL test positive for wolf content with this particular DNA test (from the laboratory of UC Davis). I do know that several dogs in Finland were recently sampled for DNA testing, whether that is for parentage analysis or for the wolf content DNA test remains to be seen. Either way, if we are all aware of this information (and the possible implications) then we can use it to our advantage: knowledge is power. By making informed choices and putting this information 'on the table' it is clear that nothing is being kept hidden. Keeping it secret only makes it look like there is something to hide.

Anyway, for those who own Tamaskan Dogs in areas where wolfdogs are illegal, it would be an idea (if you can spare the cash) to have your own dogs tested just to be on the safe side (so that you can provide proof of no wolf content, if necessary). Furthermore, it would be a good idea if breeders could test their breeding dogs (if it is economically feasible) to find out if their breeding stock carries the wolf genes as that SHOULD influence which puppies will go to which owners (from particular bloodlines) depending on where the owner lives. The way I see it, some bloodlines will test positive for traces of wolf genes but that doesn't necessarily mean they are true 'wolf hybrids' - probably low content wolfdogs at the most. However, as far as authorities are concerned (since the test is unable to differentiate between F1-F5) it could cause some problems for owners - as long as all this information is known before a potential puppy purchaser puts down a deposit, it will allow them to make an informed decision about which bloodline they should select. Certain Tamaskan bloodlines are known to be 'wolf free' according to this DNA test (though, in reality, they could be from the same bloodlines just further generations removed, which means that the wolf genes were diluted out). The main thing is responsibly placing puppies in the right homes - even though nurture and upbringing can make a world of difference on a dog's behavior and doesn't truly indicate any potential wolf content (one Tamaskan bloodline could act much like any other, regardless of a few genetic markers here or there) the fact remains that SOME bloodlines COULD test positive with this particular DNA test.
History:
The Tamaskan Dog Register (TDR) was formed in February 2006. The word "Tamaska" means "mighty wolf" in the Native American language. The TDR, formed by the original committee members of the British and International Utonagan Society, is the governing body for all Tamaskan Dogs throughout the world.

In the 1980s, five husky type dogs of unknown origin were imported into the UK from the United States. These dogs were then bred to Alaskan Malamutes, Siberian Huskies and German Shepherd crosses. The origins of these dogs are also unknown. These were the humble beginnings to create a dog that resembled the wolf, but had a good temperament and would make a good family dog. In addition, the dogs must possess a good working ability.

Over the years, a small group of dedicated breeders continued to add other dogs and through breeding, the group continued to create the wolf look-a-like breed. Since no records were maintained and the breeding programs were not documented, no one is certain of the exact breeding programs. These dogs were given the name wolf-dog, but the name was changed to Northern Inuit around 1988 since these dogs did not contain any wolf content. As a result, the Northern Inuit Society was formed.

Over time, differences in opinion regarding the development of the breed caused a split and two separate groups formed. The group that broke off changed the name of the breed to Utonagan to distinguish themselves from the Northern Inuit group and the Utonagan Society was formed. Due to differences, the Utonagan Society divided as well. The newly formed British and International Utonagan Society continued breeding with the goal to improve type, health issues and to maintain all records of matings. A hip score and eye score testing scheme, rules, regulations and a code of ethics was established. Some health issues began to appear in the breed, but they were not discovered until later. This led to the search for new healthy, unrelated bloodlines to introduce.

Dogs with the wolf appearance, health and good temperaments were found in Lapland. These dogs had the qualities that were needed. The dogs were being bred for sled pulling in extreme temperatures and they would add to the breed's future working ability. Seven dogs were imported and it was again time to consider the future.

It was at this time, that the Tamaskan would make its entry into the dog world. Committee members of the British and International Utonagan Society made the decision to close down due to activity in the original Utonagan Society. A few year earlier, the original Utonagan Society had closed and a new committee decided to resurrect the Utonagan Society. The newly resurrected Utonagan Society did not wish to follow the standards established by the former British and International Utonagan Society or to allow the new bloodlines to be introduced. It seemed obvious that these dogs would need a new name and the Tamaskan breed was established. There were 4 breeders involved in the founding of the Tamaskan: Blustag, Blufawn, Alba & Moonstone.

The foundation stock consisted of the original seven dogs imported from Lapland, seven dogs were selected from Blustag Kennel, four dogs from the UK and two dogs from the US. Two additional foundation dogs were added in 2006, one in 2008 and two more in 2009.
Temperament:
"Please note, the Tamaskan Dog is a very young breed and temperament can vary from litter to litter and dog to dog."

Tamaskan in general are very loyal family/pack orientated dogs. This leads the breed prone to suffering from separation anxiety and/or destructive behavior if left alone for any length of time. The breed tends to do best having someone working from home, but some Tamaskan have also done well just having another dog for company.

Tamaskan successfully live with other dogs, cats, horses, rabbits, birds, snakes and lizards, but it is suggested you pay special attention to introduce these animals young so they know they are also part of the pack since the breed does have a prey drive.

This breed is highly intelligent and quick to learn new things, if the right form of motivation is found. They can have a very "what's in it for me" attitude, that can come off as quiet aloof if they feel they can not be bothered with what you are asking of them. With persistence they can do a broad spectrum of things from pulling a sled to becoming a therapy dog or even becoming a search a rescue dog.

Tamaskan tend to be extremely friendly and do well with adults and children of all ages. This leads them to not making a good guard dog unless licking someone to death is the idea you have for protection. They can make good watchdogs and bark if someone or something unfamiliar is approaching your property.

Tams are generally sensitive and attuned to people, therefore it's recommended that only experienced and confident dog owners that are positive and persistent in their training consider ownership.

The perks to a Tamaskan over other Arctic breeds is their recall. They are pack dogs so do not want to be left behind, that being said they do not turn on a dime when called and will often take their time on return. Tams can have a high prey drive so teaching them young not to chase animals will prevent them from straying far if they wander out of sight.

For the best temperament outcome ask about the potential parents of your puppy as well as take the time to socialize them to everything as often as possible.
Note: There are several websites with fake Tamaskan registeries started by unscruptuous breeders, sadly one of which was the original founder.
The remaining commitee members of the breed registry have the official site and forum at the following links:
http://www.tamaskan-dog.org/
http://www.tamaskan-forum.com/
Blue Bay Shepherd
There have recently surfaced some people who are claiming to have "Blue Bay Shepherds" for sale. The Blue Bay Shepherd is still in its developmental stages and will be or several more years. There are NO breeders of Blue Bay Shepherd in the US other than the founder in
Palm Bay, Florida and the other breeder is located in France. If your pup does not come from one of those sources, it is not a Blue Bay Shepherd. All Blue Bay Shepherds are registered with a certificate and a number hand signed by the founder. If you purchase a pup without this certificate it is not a Blue Bay Shepherd. If a Blue Bay Shepherd is bred to anything other than another Blue Bay Shepherd it is a mixed breed.There are no legitimate Blue Bay Shepherds with out a certificate. If you see an animal for sale that someone is claiming to be a Blue Bay Shepherd ask to see the certificates of both parents. If they say the certificates are lost then call the founder at (561)-248-4610 as every single Blue Bay Shepherd born in the US or in France will have a registration number that can be verified.

History of the Blue Bay Shepherd from Breed Founder Vicki Spencer

The Blue Bay Shepherd is a new breed in progress that I have been working on for over 20 years. The first litters were finally produced in March 2011. Some of the foundation animals are from European German Shepherds imported from a top breeder in France with bloodlines from Germany and Holland as well. They are a color known as "Blue" and very hard to find in the shepherd. It has been my dream for many years to develop a dog that would have the willingness to please, the loyal nature and trainability of a well-bred German shepherd with the extremely good health, loving nature and awesome beauty of their wolf ancestry. That has proved to be very difficult and at times a seemingly impossible thing to accomplish because finding just the right dog has not been easy. I always knew the German shepherd had most of what I wanted.

While I love the look of the old style German shepherd like the Rin Tin Tin of the 1950's TV series, it had been impossible for me to find that look. When I ran across the blue color in the wolf dog I knew then that was what I needed to produce the look I wanted. A "Blue" German
shepherd would solve my problem with the dark eyes. The blue coated animals always seemed to have lighter eyes so when and if I was able to find one I would only have to work on bringing the ear size back down in proportion to the head. However the "Blue" German shepherd also proved extremely hard to find. I had one back in the 70's so I knew the blue existed. I just could not seem to find one anywhere. The only blues I could find were not solids; they developed a very distinct saddle and almost completely lost the look of the blue by a year old.

Searching for the right look...

After a while I pretty much gave up finding a blue German shepherd and just went on breeding my blue colored wolf dogs. I'm sure everyone knows how it goes when you quit trying so hard sometimes things just happen. One day I received an email from a breeder in France who bred Altdeustsche Schaferhund's. They attached their website address to the bottom of the email. I clicked on their site and there they were, the most beautiful Blue German Shepherds I have ever seen! The problem was finding a way I could cross the shepherd with dogs of more recent wolf heritage and NOT produce the traits that I personally found to be unappealing with some of today's German Shepherds,specifically, the very dark eyes and larger ears. At the same time there was something about a lot of wolf type dogs that I did not like either and that is their shy and sometimes very timid nature with humans. Crossing a dog with traceable wolf heritage back to a shepherd is not by any means something new that has not been done many times before. Today there are some wonderful breeds that have been created from this cross. However it seemed like the German shepherd had dominated the looks of almost every cross I had previously seen. As many people know the German shepherd has traceable wolf heritage and in some of the old studbooks the wolf was originally used in the development of the breed, as we know it today.

The perfect foundation GSDs:
Within a year I got 2 pups a male and female. I must say I was extremely surprised to find everything I was looking for in those 2 pups. I consider myself very fortunate to find such a dedicated breeder without them I would have never been able to get started on this new breed. These 2 pups not only had the color, their ears were not oversized and their temperament was everything I could have hoped for. They both have very soft temperaments and sweet personalities more like that of a collie or golden retriever, great for a family pet. So my concern about the possibility of having the aggressive temperament that some GSD's have was no longer a concern . Jordan & Passion absolutely love everyone they meet.
This type of temperament is great because my vision for the Blue bay Shepherd was to create just a really good companion and family pet that would be safe with all people. Since the wolf dogs I have had over the last 30 years have always displayed nothing but a sweet
nature and have never shown any protective or aggressive tendencies I did not want to add that with the German shepherd.

Developing the breed:
So I have this year the first foundation litters of what I intend to develop as the Blue Bay Shepherd, just a good pet and true companion dog with "out of this world" beauty. They will not carry the stigma of the name "wolf" ,wolf dog" or wolf hybrid" since one of the parents is a full German Shepherd and the other parent is 5 generations away from any pure wolf in their line. This makes the first Blue Bays F-6. Within the next year or two I will be breeding Blue Bay to Blue Bay. I have been very selective about the animals that I chose for this first breeding. I used animals that I have line bred for quite some time specifically for looks and temperament and I know their backgrounds well. I have already chosen the other lines
that I will be introducing into the further development of the breed although I can say I have come closer to exactly what I want the Blue bay to be in these first pups than I ever imagined I would. There will be NO wolves added in the development of this breed. I will be creating a standard for what all Blue bays should ideally be. I hope to be on target with that standard by keeping in touch with all the new owners as their pups grow. This way I will know if they are turning out as planned and can work on continually improving the breed as it develops with the help of other dedicated people and the daily blessings of God.
Official Breed website:
http://bluebayshepherds.weebly.com/
Breeds with Known Ancestry from Other Wild Canids

Sulimov Dog (Golden Jackal Ancestry)
The Sulimov dog (Russian: Собакa Сулимова), also known as the Shalaika (Russian: Шалайка),[1] is a Russian jackal-dog hybrid originating from an initial hybrid between two Lapponian Herders and two Turkmen golden jackals. The breed was developed by Klim Sulimov for Aeroflot airline security. He is described as a Senior Research Assistant at the D.S. Likhachev Scientific Research Institute for Cultural Heritage and Environmental Protection.[2] The primary use of this breed has been to aid airport security as sniffer dogs. Quoting Sulimov, "My dogs combine the qualities of Arctic reindeer herding dogs, which can work in temperatures as low as -70°C, and jackals which enjoy the heat up to +40°C. They're perfect for our country."[3]

During the breeding process, male jackal pups had to be fostered on a Lapponian Herder bitch to imprint the jackals on dogs. Female jackals accepted male dogs more easily. The half-bred jackal-dogs were hard to train and were bred back to Huskies to produce quarter-bred hybrids (quadroons). These hybrids were small, agile, and trainable and had excellent noses. They were then called Sulimov dogs after their creator and may one day be registered as a working breed of dog. Twenty-five Sulimov dogs are used by Aeroflot at Sheremetyevo Airport in Moscow, for functions which include bomb-sniffing. Their breeding program dates back to 1975, but was not applied to bomb detection until 2002.

The jackal-dog hybrids were bred together for seven generations to establish the breed. To improve trainability, other dogs were bred into the line: a reindeer herding hound, a fox terrier, and a Spitz. The result was an easily trainable dog with a superior sense of smell. Only about 40 of these dogs are in existence and they are all the property of Aeroflot. They are trained from puppyhood to recognize 12 components of explosives. Unlike more common sniffing dogs, they take the initiative in searching. [4]

Australian Cattle Dog(Dingo Ancestry)
The Australian Cattle Dog (ACD), or simply Cattle Dog, is a breed of herding dog originally developed in Australia for droving cattle over long distances across rough terrain. The Australian Cattle Dog is a medium-sized, short-coated dog that occurs in two main colour forms. It has either brown or black hair distributed fairly evenly through a white coat, which gives the appearance of a "red" or "blue" dog.

As with dogs from other working breeds, the Australian Cattle Dog is energetic and intelligent with an independent streak. It responds well to structured training, particularly if it is interesting and challenging. It was originally bred to herd by biting, and is known to nip running children. It forms a strong attachment to its owners, and can be protective of them and their possessions. It is easy to groom and maintain, requiring little more than brushing during the shedding period. The most common health problems are deafness and progressive blindness (both hereditary conditions) and accidental injury; otherwise, it is a robust breed with a lifespan of 12 to 14 years.

In the 19th century, New South Wales cattle farmer Thomas Hall crossed the dogs used by drovers in his parents' home county, Northumberland, with dingoes he had tamed. The resulting dogs were known as Halls Heelers. After Hall's death in 1870, the dogs became available beyond the Hall family and their associates. They were subsequently developed into two modern breeds: the Australian Cattle Dog and the Australian Stumpy Tail Cattle Dog. Robert Kaleski, who wrote the first standard for the breed, was influential in its development.

It has been nicknamed a "Red Heeler" or "Blue Heeler" on the basis of its colouring and practice of moving reluctant cattle by nipping at their heels. Dogs from a line bred in Queensland, Australia, which were successful at shows and at stud in the 1940s, were called "Queensland Heelers" to differentiate them from lines bred in New South Wales; this nickname is now occasionally applied to any Australian Cattle Dog.
Australian Stumpy Tail Cattle Dog(Stumpy Tail Cattle Dog)(Dingo Ancestry)
The Australian Stumpy Tail Cattle Dog is a naturally bobtailed or tailless, medium-sized breed of dog and a variation of the Australian Cattle Dog. The Australian Stumpy Tail Cattle Dog was developed in Australia[1] to herd cattle,[2] and descends from crosses between European herding dogs and the Australian dingo. The name is spelled both with hyphenation, as Australian Stumpy-Tail Cattle Dog,[2] and without,[3] and the shorter name Stump Tail Cattle Dog is also sometimes applied.[4]

The Australian Stumpy Tail Cattle Dog descended from Smithfield herding dogs of England, which were brought to Australia in the early 19th century and cross-bred with the dingo. Records of working dogs are scarce from this time period, and there are differing accounts of the breed's development. One is that a drover named Timmins from Bathurst, New South Wales, crossed the Smithfield dogs with the dingo, producing a type of working dog called Timmins' Biters.[1][5] In order to mute their dingo characteristics and make the dogs easier to handle, further crosses were made with Scottish Smooth Collies, producing speckled red and blue dogs that were often born tailless.

In the book A Dog Called Blue, author Noreen Clark makes the case that both the tailless Australian Stumpy Tail Cattle Dog and the Australian Cattle Dog descended from the same stock, called Halls Heelers, kept in the 1830s by a very large cattle operation run by Thomas Hall. The dogs which were also crosses of Smithfield and dingo, but the breeds diverged at some point in the late 19th century.Selective breeding of the tailless or short-tailed dogs has fixed the characteristic of today's breed.[1][5]
The rumored breeds will come in the next post.